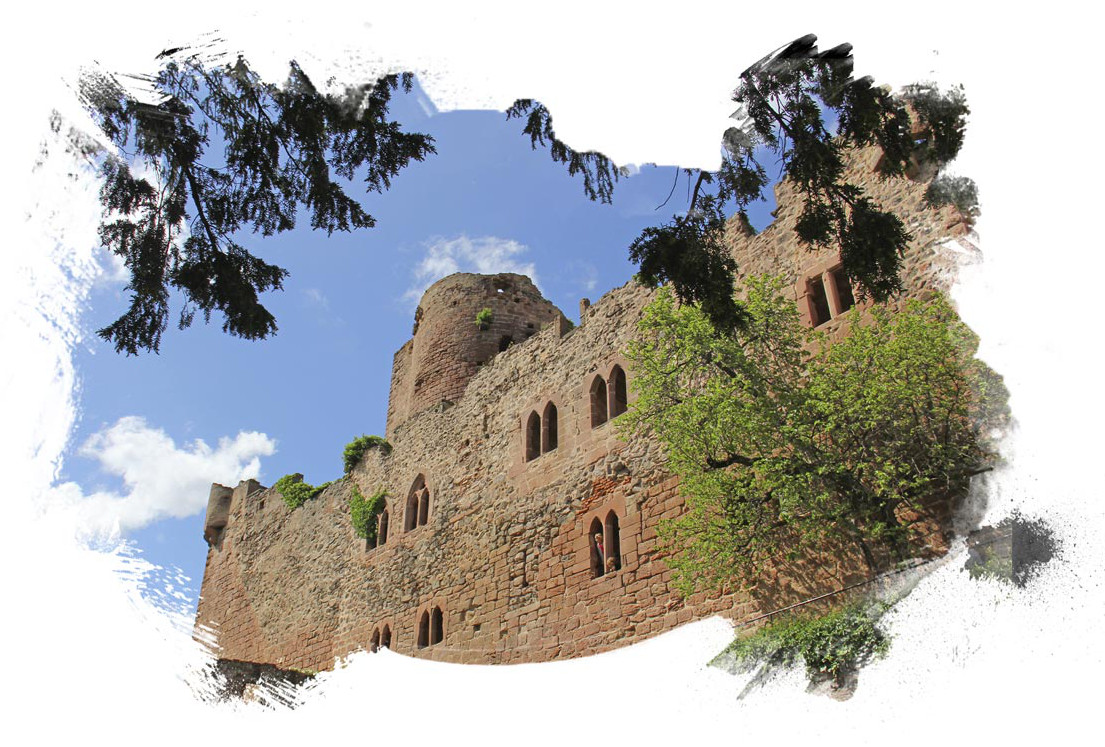 Kintzheim castle
.
A majestic site
La Volerie des Aigles lies within the municipality of Kintzheim in the Bas-Rhin département of Eastern France.
Kintzheim is a typical village of the wine-growing foothills in Alsace, extending over an area of 2360 hectares including 560 hectares of forest, with a population of about 1500.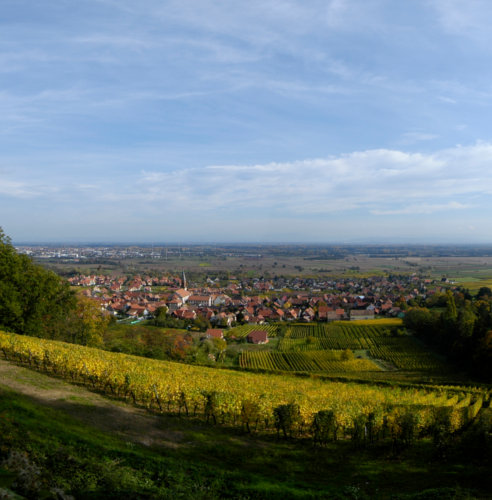 A commanding view of the Alsace plain
.
On the western edge of the foothills of the Vosges, Kintzheim castle stands on a small rocky outcrop that looks down onto two valleys lying to the north and south. Its elevation is 260 m. This hill is about 100 metres above the village.
The site includes an area of 850 m² in which the birds are housed, out of total of 3800 m². The display area is 800 m².
In the 6th century, Kintzheim was known as Regis Villa. The Merovingian kings had made it the centre of a vast domain encompassing Haut-Koenigsbourg.
Charlemagne used to celebrate Christmas in the "Palatium Selestatis", presumably located in Kintzheim.
A place steeped in history
.
Work to build the castle began in 1250 on the orders of Emperor Frederick II of Hohenstaufen, who died the same year.
It was completed in the 15th century.

Timeline
1633
The castle was destroyed in part
by the Swedes during
the Thirty Years' War.
1649
The city of Sélestat sold the castle to J.G. de Gallen, minister of Emperor Ferdinand III of Habsburg.

1650 - 1670
He ordered the restoration of the chapel
and the main building.
1801
The castle was neglected after the French Revolution in 1789, and the city of Sélestat tried to buy it back in 1801.
1807
Napoleon I bestowed it upon Mathieu de Fabvier in 1807.

1830
The roof collapsed. The Romantic movement brought the Middle Ages and castles back into fashion.
1876
Work began for the overall consolidation of the ruins of Kintzheim. The Fabvier family were connected to the Humann family, whose descendants are the present-day owners of the castle.
1945
The dungeon was used as an observation post during
the Alsace campaign and was partly
destroyed by shells.

1964
The ruins were listed as a historical monument.
1968
La Volerie des Aigles moved into the castle and brought it back to life.


History
Since it took up residence in the ruins of Kintzheim castle in 1968, la Volerie des Aigles has been working on an issue that is environmental, but mostly human. As a result of unjustified eradication campaigns and ever-expanding agriculture, the raptor population has fallen alarmingly.
That is why the first park for birds of prey was set up, with the task of restoring the image of those birds in the eyes of the public in a manner that would be enjoyable and educational, helping the birds breed and supporting action for conserving biological diversity.